---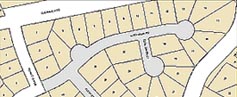 ---
Notes:
This database is comprised of scans of hardcopy files stored at Subdivision Engineering Review which include both "review" documents and "final" documents. If you need to verify that a document is "final", please contact Subdivision Engineering Review. Recorded plats are available from the El Paso County Clerk and Recorder.
Although we strive to provide the most accurate data possible, the City of Colorado Springs can not be held responsible for the accuracy of the documents stored in this database application.
Adobe Acrobat Reader® must be installed on your computer in order to view the PDF files.
A default TIF file viewer program must be installed on your computer in order to view the TIF files.
Large format drawings have been scanned in both PDF and TIF formats. PDF files are generally much smaller and will load more quickly. In most cases the PDF file is sufficient for viewing. However, some PDF scans of older drawings may be difficult to view. If a document is difficult to read, select the TIF image.
To request construction designs and record drawings please click here.
Address questions/comments to City Engineering at 385-5918.
---
City of Colorado Springs - City Engineering